Dan Fogelberg's 6/4 performance, at the beautiful Murat Theater in Indianapolis, took the listener by the hand for a three decade walk of music served up in typical Fogelberg fashion. If there were any doubts regarding Dan's vocal chops as of 2003, he quietly put them to rest after greeting the loyal sold-out enthusiastic crowd, getting straight to business, flawlessly picking "Nexus" while vocally giving the song his Fogelberg brand. The set list here was very similar to the posted, with the exception of "Old Tennessee" being removed. Acoustic fans and Martin guitar lovers received a clinic with back to back songs "Make Love Stay" and the instrumental "Lazy Susan" as Fogelberg worked his signature magic vocally, while totally captivating the theater with his unique command over his six string. The opening acoustic set ended with Dan at the piano with a haunting rendition of "Same Old Lang Syne", putting a good tight wrap on an hour first set. Without a break, Dan brings out the band and kicks into an old crowd favorite, "Part of the Plan".
Highlights of second set were many, including "Crow", and the new title track from CD "Full Circle" – displaying a welcome retro-country, harmony flavor of yesteryear. Also, "The Reach" proved to be a powerful crowd favorite. The "Power of Gold" took a completely new stretch, pulling out all stops, complete with dueling lead guitar rifts allowing Fogelberg to release his electric evil twin, hitting this one completely out of the park for a home run rocker! Encoring with the familiar "There's a Place in the World for a Gambler", Dan encouraged the loyal crowd to join in the choruses. A great sound mix and song selection provided a perfect night with an old friend. We in Indy anticipate the next stop!!
Jay Clevenger / Doug Alkire

Well, another concert year has come and gone for Indiana Dan fans, but Dan and "the guys" gave the kind of performance at Indy's Murat Theater that can carry us through to next year. I won't go into set lists, as that sort of thing either has already been, or will be, amply covered. What I would like to describe is all there was to see, and hear, and purely enjoy … the experience of just being there.
The warm-up act consisted of a young woman with a raspy, winsome style that melded well with her partner's nimble acoustic accompaniment. Some of their songs sounded faintly reminiscent of one another on occasion and, anywhere else, they might have been greeted with a less than enthusiastic response. However, since they were done with great style and a fair amount of passion, the audience rewarded them with heartfelt applause in a show of Hoosier Hospitality normally reserved only for Dan himself. What could have been viewed as a delay in seeing the much-awaited performance of Dan and his band was, instead, pretty satisfying for both audience and performers. Good deal.
Then there was an intermission between shows. Again, this could have been yet another delay for a less laid-back audience, but instead, Hoosier Dan fans used the opportunity to catch up with old friends and meet up with new ones. In that "any fan of Dan is a friend of mine" kinda way, people throughout the theater were milling and mixing, chatting across rows of seats, sharing a Dan fan story or two and, in general, just standing around smiling. As I summed it up to the couple seated next to us, who were by then like old friends, "it reminds me of the atmosphere between campers at a state park" … all these (for the most part) virtual strangers united in a bond of sharing created by a mutual love of Fogelberg's music. Again, pretty neat and only at a Dan concert…
Then and finally, Dan took the stage and the audience erupted into wild applause and cheers, which brought a huge smile to Dan's face as he burst into a kind of ad lib performance of "The Nexus". He pretty much continued on in this way, each song bringing the crowd to their feet when they recognized the first few strains of a beloved song … waves of nostalgia seeming almost palpable in the place. Sensing the audience's desire to see the band and to hear some of the rock and jazz numbers, Dan, in his typical self-effacing way, promised to "bring out the guys here in a little bit, but for now, it's … just me…" - which got a big laugh from the crowd.
Then the band joined him on stage, and as Dan made the introductions, again it was just obvious how much this was truly a Dan fan crowd. People were almost as excited to see them as Dan himself … more "old friends." Continuing on with the same "see if you can guess" manner of starting into some of his older tunes, Dan and the guys treated the audience to new and interesting introductions that kept us guessing what they were leading up to … until those first few notes easily recognizable to all Dan devotees and, of course, cause for more wild applause. Sometimes, we got this treat at the end of songs … prolonged conclusions with Dan and the guys just jamming it up, laughing at one another, seemingly making it up as they went … and taking the audience right along with them.
The show ended way too soon for this bunch of Hoosiers, bringing and keeping the whole house on its feet for a full five-minute encore appeal. Finally, Dan and the guys came out, Dan waving and saying, "Okay, okay, you guys… that's enough!" and starting into what has pretty much become the traditional "let it shine" sing-a-long. A naturally perfect ending to a pretty fantastic night that will remain memorable to this fan … on so many levels … "until next time."
Constance - Paoli, Indiana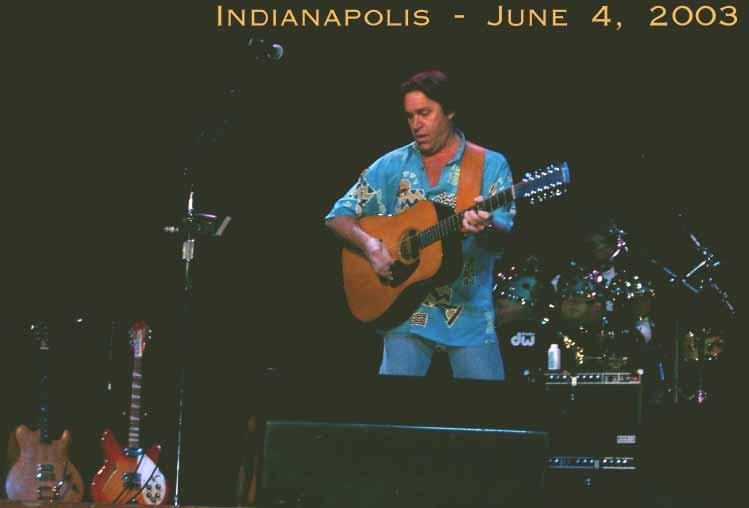 For those of you who haven't been to the concerts yet, prepare for hearing the oldie goldies as never before! Some that weren't among my favorites have now reclaimed their place in my heart. I only need to hear them played live from now on!

Will post more later but some of the highlights were Christian's camera being confiscated by security and the two of us convincing the guy after the concert that the pictures had been deleted. Of course we saved them and will share as soon as Christian gets home to his computer. I hid my camera under my arm and totally ignored the guy as he busted Christian. Part of the roll had graduation pictures from the night before so no way he was getting my camera. I would have left the concert first which was the alternative to not releasing the camera. Good thing you weren't there Kim, you would have had a heart attack!



As we were bantering back and forth with Dan, Christian yelled out "Nice shirt" and Dan answered "Which one, mine or Mike's?" About ten people all yelled together "All of them." Laughter from both the stage and the audience rang out as they started the next song. Dan became more animated as the show progressed, the audience responded in kind.

On the last part of the Gambler encore Dan hesitated singing the word shine and Christian sang it out loud and clear which brought a smirk from Dan looking right at him. Everyone all around us laughed as Dan finished the song.

Saw all the boys in the band afterwards. Robert remembered us from Chastain, he was his usual charming self, very sincerely happy to talk to us! We talked about Red Rocks, he was as impressed with that concert as we were. Got hugs from Robert, Jim and Mike plus pictures with all of them. Trying to work up the nerve to let Christian put those with me in them here..... We'll see.



Great concert!!!! Anyone hesitating on whether to go or not GO GO GO!!!

More stories of our adventures and full review later, I've got more playing to do first.



~~Sylvia
At last..... I have time to post about the concert!
As we approached the venue, there it was, Dan's name in lights! Of course Christian and I had to stop and take pictures, it added to the already built up excitement of seeing our favorite musical composer in a matter of minutes! First order of business was a trip to the souvenir stand where I bought 3 shirts for my wonderful friends who couldn't join us. Then on to check out the seats and they were good ones, Dan was just a few feet away from where we sat!

Hoping there wouldn't be an opening act this year but soon changed my mind as she started to sing. Her name is Jennie DeVoe and she has an amazing way of bringing you along as she belts out her raspy, bluesy, folk, rock sound. Christian was so impressed he bought two of her CDs at intermission. You can check out her sight at: http://www.jdevoe.com. Give her a listen, if you get a chance, I think you'll like her style. The guy who accompanies her on the guitar and brings his own special voice to the mix is named Brett ~ how appropriate is that?



Dan appeared to a standing ovation and started right in with "Nexus". I'll never tire of hearing this song in concert! The way he makes that 12 string speak to you, hard to believe it is just one man with one musical instrument responsible for such a vast multiplicity of sound! Nice long version which set the mood for the evening, a hint of the treats to come.

After, he played with the ever present powder, sending the puffs into the air and chuckling. Brought back memories of the Vevay concert when he went a bit crazy with the stuff.

All of the old songs were played with an emotional devotion, it was as if he was rededicating them to us. Somehow Dan managed to cause you to listen as if for a first time. Not the same planned arrangements as before but in their stead an array of surprises. The songs which brought this pleasure for me were "Crow", "Missing You", "Power Of Gold", "Heart Hotels" and "As The Raven Flies".

We were treated to the dueling guitar rifts of Dan and Robert a few times during the playing of the old tunes but nothing compared to their version of POG [The Power Of Gold] ! Made me sit up and pay attention! The bands voices blended in perfect harmony with Dan on this number also ~ they REALLY got down with this one! Left me asking myself why it was not one I cared for in the past. I'll listen from now on just to picture them in my mind doing justice, giving this song the life it was meant to have. "Missing You" was played with a long amazingly jazzy take and "As The Raven Flies" brought with it the best version I have ever heard. "Crow" was another surprise treat, Dan made it shine with a long bluesy rendering, exceedingly better than I had ever heard it before!

Before playing "Reach Haven Postcard" Dan explained that like "The Reach" this song was about the coast of Maine. Said that with the writing of this song he realized how many referred to the leaves turning. Then he added there was not much else to do on the coast of Maine but watch the turning of the leaves and that was the way they liked it! Sounds like a good way of passing the time to me!



During the usual calling out of requests, (which he actually encouraged!) he responded with "Whipping Post" which brought a roar of approval from the crowd. But they didn't play it of course.

Throughout the two hour concert there were many standing ovations and whoops of appreciation from the audience. Not as many stood for Gambler as in the past which was a disappointment to me. As long as I can remember this was the signature encore which cried out for the fans to connect with each other, Dan and the band. Everyone in the whole venue always stood with our arms wrapped around each other, singing and swaying to the music and lighters raised in flame during the shine chorus.

Seems concert crowds have changed quite a bit in my absence from the scene. Used to be if we liked the music, we stood up and danced, the artists encouraged us to. I felt it to be a compliment to them that the music moved us so much we couldn't sit still. Now if you dare to show your appreciation you risk having your character called into question on another fan website. I feel truly sorry for those that can't or won't let the music carry them along. It's a place I go to regularly and look forward to each returning visit.

I often wonder if Dan realizes how strong and loyal a fan base he has here. His six year absence was much too long for us, if he decides down the road to return we'll be waiting.

And if not, then I for one am a satisfied fan. One he has without pretense, and in the fullest degree blessed with a musical life, one brought unmistakenly full circle with this magical night of unprecedented delight!

~~Sylvia

Hi!

Made it back from Indianapolis through some stormy weather - thanks again to Sylvia for arranging such a wonderful time and getting front-row seats for everybody.

Here are a few more thoughts on the June 4 concert at the amazing Murat Theatre, Indianapolis:

Surprisingly, Dan leaned very heavy on the old stuff, rather than playing songs from the just-released Full Circle album. Then again, the surprise selections of the extended and electric "Crow" or the smoking updates on "Raven" and "Missing You" seemed to please everybody immensely. For those finer-tuned ears: even standard concert fare like "Leader of the Band" received a few subtle changes (sounded half an octave higher than usual), and the soaring harmony vocals on "Run for the Roses" made for goosebumps all the way.

The evening began with a 30-minute performance by Indiana singer/songwriter Jennie DeVoe, who received a lukewarm welcome at first but won the sell-out audience (my guess is about 1,600 seats) over immediately with her bluesy acoustic set.

Dan's just-over-two-hour set (no break this year) began at 8.15 sharp... seven solo numbers (it still amazes me it's only ONE guitar on "Nexus"!) before the band joined Dan about 45 minutes later for the remainder of the show. Bassist/vocalist Jim Photoglo and veteran session drummer Michael Botts both did great jobs (like they did back on the 1991 Greetings From the West tour), Mike Hanna and Robert McEntee played with Dan on last year's tour, of course, the latter dueling extensively with Dan's lead guitar on "Power of Gold", which - my guess - clocked in at 10 minutes plus.

Dan seemed really pleased with the appreciative Indy audience (front row certainly gave its enthusiastic best) and seemed content throughout the evening. He played only two songs from "Full Circle", which he claimed to be "pretty excited about, no surprise if you only release a new album every nine years". When introducing "The Reach" (great version with the full band!) he claimed to have noticed for the very first time that night that there are a lot of similarities between this song and "Reach Haven Sunset" beyond the Maine setting and the title... fall, leaves, dusk. The "Gambler" encore had everybody standing and singing along, and we all heard the "See you next year" line loud and clear - I'll be there!

As Sylvia pointed out in her first review, our friends from the local security company lacked a little politeness and bore down on us with their zero-tolerance policy on taking pictures (even though the official pre-concert announcement only asked to refrain from using flashlights)... I'm sending Brett a few selected pics I managed to smuggle by the security desk anyway



After the show Robert, Jim and Mike Hanna (happily munching away on sandwiches provided by the leader of the band - guess we're all cutting down on expenses these days) did a meet-and-greet on the parking lot until the bus backed up clandestinely to pick up Dan and Jean by the side exit.

All in all, comparing the six Dan shows I've flown over for so far, I've actually liked this one best, mainly for its variety... solo, acoustic band and a smoking electric set, new stuff and updated oldies, and front row, of course

))

To all of you who still have their Full Circle shows coming up: ENJOY!

Christian