Run For The Roses
Born in the valley and raised in the trees
Of Western Kentucky on wobbly knees
With mama beside you to help you along
You'll soon be a-growing up strong
All the long, lazy mornings in pastures of green
The sun on your withers, the wind in your mane
Could never prepare you for what lies ahead
The run for the roses so red
And it's run for the roses as fast as you can
Your fate is delivered, your moment's at hand
It's the chance of a lifetime in a lifetime of chance
And it's high time you joined in the dance
It's high time you joined in the dance
From sire to sire, it's born in the blood
The fire of a mare and the strength of a stud
It's breeding and it's training and it's something unknown
That drives you and carries you home
And it's run for the roses as fast as you can
Your fate is delivered, your moment's at hand
It's the chance of a lifetime in a lifetime of chance
And it's high time you joined in the dance
It's high time you joined in the dance
~~~ Dan Fogelberg ~~~
The Horses of the Kentucky Derby
Interactive CDROM
Dateline: 06/02/00
If you love the Kentucky Derby you will love this new interactive CDROM from Bolding-Schaffer Productions. This CDROM includes over 500 photos of the first 125 Kentucky Derby winners, including some that are pretty rare. The CD includes a timeline history of the Derby, some stats and trivia, an article about African American jockeys, plus a page for each Kentucky Derby winner. For each winner you get a selection of photos including the one from the Horse Star Cards Derby card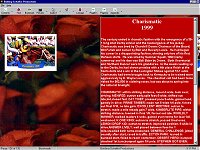 Screen shot
of Charismatic's page. Menu items will bring up several more photos and his pedigree.
Click to enlarge.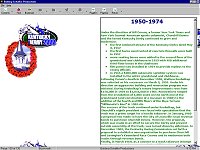 Screen shot of a history timeline page for 1950-1974.
Click to enlarge.


set plus whatever else they could find for that horse. This could range from several shots of the horse in the Derby, the winner's circle, working out, in the barn, in a pasture, etc. to photos of the owner, trainer, and jockey. Obviously more and better photos are available for the later years but there are some interesting ones for all years. Each horse also gets a nice write up on their career and a link to their pedigree. The CDROM also includes two songs:
Dan Fogelberg's "Run for the Roses" and "My Old Kentucky Home".
This CDROM is quite affordable at only $29.95 which is an excellent bargain for what you are getting. The navigation might cause a few users who are not very computer literate problems at first, but if you play around with it you will catch on pretty fast. The key piece of information that is missing is charts of all the runnings. Hopefully when they update the CDROM for future editions they will consider adding those in. Another item on my wish list for the next edition would be a video clip or even just the audio race calls for the years where that is available, similar to what they have in the Kentucky Derby Museum exhibit. One big plus is the photos are all stored on the CDROM in Windows bitmap (*.BMP) format so you can easily use them for wallpaper on any version of Windows.
"This is a once in a lifetime production for us and is incredibly fun. We got tired of tabletop books full of pictures of race day scenery and wanted to make something that studied the heart of the event."


Mark Bolding of Bolding-Schaffer Productions
To order your own copy, just visit the Bolding-Schaffer website and you can place an order online, via a toll-free phone call, or via regular mail.
Minimum system requirements:
Windows 95 or 98
16MB RAM
2MB hard disk space
CDROM drive
640x480 with 16 colors video display
Pentium or better processor